Daily Human Care is going to discuss about CareLogic vs Kareo today!
Deciding between EHR solutions is a tricky task that sucks the energy of care providers. We know you don't have time to spare on these energy-draining tasks, and thus we have sorted out two top-class EMR platforms for you. Kareo EHR and Carelogic are two eminent healthcare platforms. A Carelogic vs Kareo comparison will help you understand the specs of these solutions so you can weigh them in terms of features, quality, and customer specifications. So, get ready to explore this thorough Carelogic vs Kareo battle.
Kareo EHR & its features:
Kareo is a versatile and adaptable healthcare software that has been around for ages. There's no doubt about its clinical services because they work at the next level. Kareo EHR has the potential to drive clinical practices to success with the least possible resources. This cost-effective solution offers an all-inclusive interface marked with perfection. Engaging patients, managing finances, optimizing administrative operations, and mitigating clinical intricacies is all this vendor strives for with robotic process automation.
It is not just an EHR solution but works as a fully capable billing software tool for medical billing companies. It automates invoice generation by creating billable patient profiles so there are no chances of patients being overcharged. And that is why it allows for charge optimization. Its claims management services are also impeccable and increase the revenue of care practices. Also, this multidisciplinary solution allows for coding patient encounters as it is dedicated to medical practices and aims to help them prosper.
Kareo EHR Reviews:
The reviews of Kreo software are worth exploring for users have shared crucial facts about the vendor. Kareo EHR reviews are not just about its features but also highlight the integrated capabilities of this platform. On average, Kareo is backed by excellent reviews that add to its reputation in the industry. KLAS even lauds it for enhancing the effectiveness of medical practices. Read below to find out more about Kareo EHR reviews:
Pros:
Its billing services are lit and are fully integrated with the EHR and practice management solution.
The managed billing services of Kareo software simplify and speed up the payment processing.
Adding and editing patient notes is a breeze with the intuitive documentation features of this robust platform.
Kareo EHR makes remote interactions productive by featuring an HD-quality interface for smooth virtual communication.
It looks after all troublesome and time-consuming administrative tasks leading to a compact clinical workflow devoid of all inefficiencies.
Cons:
Some users say Kareo charges heavy pricing for its all-inclusive clinical packages, but it's not overcharged for its features and impeccable services.
The support team of Kareo billing software is sluggish, which causes trouble for clinical practices with delayed responses.
Kareo Pricing:
The pricing plans of Kareo billing software are not disclosed. But its pricing policy is available on the web. Kareo EHR charges a one-time implementation fee Kareo billing software features a monthly=based pricing model. Also, there are two pricing modes, one for physicians and the other for non-physician care providers. The minimal price it charges per month is $150 which all independent practices can easily afford.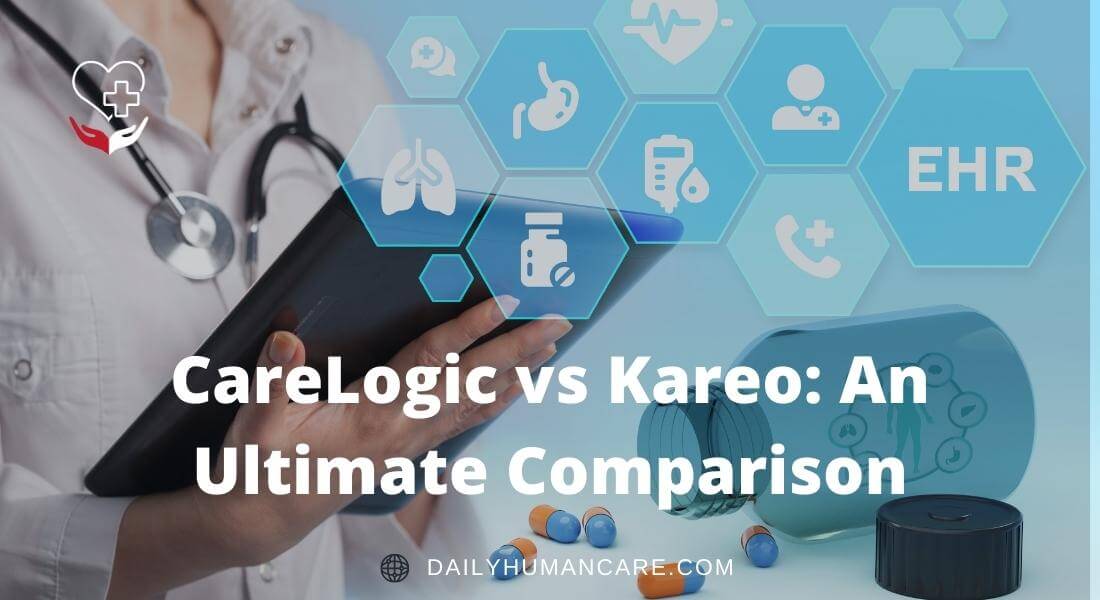 Carelogic Qualifacts & its Features:
Craelogic is an intuitive enterprise-grade solution that tends to the needs of behavioral health practices. This human services EHR empowers medical professionals with fine-grade clinical, administrative, and financial services. It aims to streamline the clinical workflow and optimize the revenue stream of medical practices. In addition, it comes with various integrated capabilities that are nowhere to be found in other vendors. For instance, Carelogic offers consumer engagement, treatment planning, and outcomes management services.
On top of that, it offers mobile applications to allow for on-the-go care processing. Using this intuitive solution, practitioners can make strategic decisions as it is a data-driven solution. Also, this leading healthcare platform features unparalleled services to improve staff efficiency. In addition, providers are given instant access to patient records to boost clinical productivity. Lastly, Carelogic Qualifacts supports an interdisciplinary and a simplistic treatment plan workflow for enabling practices to deliver the level of care clients deserve.
CareLogic Reviews:
Like Kareo, Carelogic also enjoys good customer reviews. It is surrounded by a positive customer outlook where clients are all praised for the flawless services of carelogic EMR. Facts revealed that as far as reviews are concerned, Carelogic is ranked no. 2 by KLAS for delivering the best software services to the practitioners. Here is the crux of Carelogic reviews that will help you understand it better.
Pros:
It is a resilient solution that fully backs the medical professionals with 24/7 customer support and features a responsive support team.
Carelogic Qualifacts improves the patients lives by delivering to-the-point care by involving pateints in the care treatment too.
Claims management is an error-free and hassle-free task with the comprehensive claims management services of carelogic EHR.
Patient charts are completed with a flick of fingers with intuitive documentation services of this reliable software.
Carelogic EMR handles the tricky administrative tasks so clinical administrators can heave a sigh of relief.
Cons:
Reviews show that the reporting module of Carelogic software is outdated and needs to be improved to keep up with technological advancements,
There is a minimalistic learning curve as users can't get used to intuitive services like treatment planners instantly.
CareLogic Pricing:
Carelogic EHR has not listed its pricing plans. You have to contact the vendor to get pricing details. However, Carelogic Qualifacts states that its pricing packages are created taking into account the number of users. Also, its plans are inclusive of the implementation fee that gives practices room to scale their business.
Kareo vs CareLogic: The Bottomline:
A great way to end this Carelogic vs Kareo comparison is to emphasize the difference in specialties. Carelogic EMR is explicitly a behavioral health-specific solution, whereas Kreo is a multi-disciplinary solution. Kareo EHR is an all-rounder as it masters the art of managed billing services and thus handles the billing needs, minimizing errors.
The billing services of Carelogic don't work at the level of Kareo software. But in the end, it all comes down to the medical specialties and clinical requirements. We have penned down all you need to know, so choose accordingly as it is not child's play, every second counts.
DISCLAIMER: This is a sponsored post. Daily Human Care does not endorse and is not responsible or liable for any information, accuracy, quality, advertising, drugs, doctors, goods, or other items on this page because it is a sponsored press release. Before taking any steps, readers should conduct their own research. Daily Human Care (DHC) is not liable for any damage or loss caused or alleged to be caused by or in connection with the use of or reliance on any of the content, goods, or services mentioned in this article, whether directly or indirectly.