Are you looking for Home Patient Care Services online? Do you want to know what Home Care Services include? What is the Difference Between, Home Patient Care Services, Elderly Caregivers and Baby Care? What are the rates of Home Nursing Care Services? If you have any of the above questions, you should read this article completely. This article by daily human care is a Complete Guide to Hire Home Patient Care Services for Patient Care at Home.
Home Nursing Care Services
Home Nursing Care Services or Home Patient Care Services is a term that stands for the medical treatment of the patient in their own home, home of the patient. If a patient or his family hires a home care nurse, they do not need to bring the patient to the hospital or clinic for medical treatment.
There are two types of nurses working in the field of Home Care Medical Services. Male Nurses and Female Nurses. In a country like Pakistan, people do not hire opposite-gender nurses for their patients. Resultantly, they hire Male Nurses for Male patients and Female Nurses for Female patients.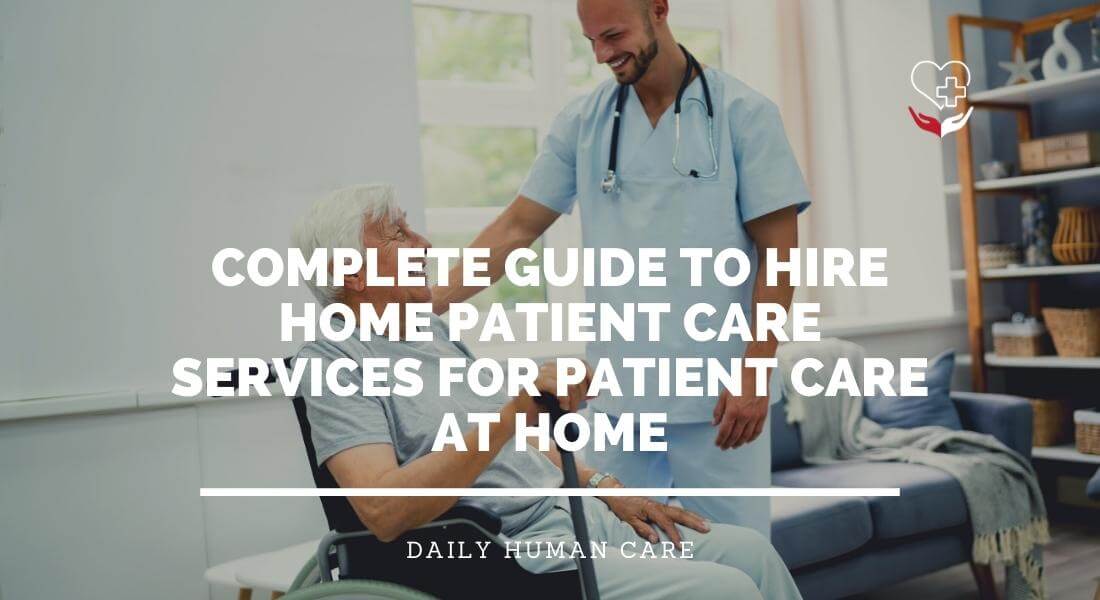 What Do Home Patient Care Services Include?
Before hiring a nurse for your loved ones, you must know that the Health Care Agency you are hiring provide your required medical treatment or not. There are different types of Home Nursing Services, which anybody can hire. This is not necessary that you hire Home Care Services only for a patient who cannot go to the hospital or clinic on their own. Many people hire them just to save time and to avoid direct interaction with the medical atmosphere. Home Nursing Services may vary Health Agency to another. However, usually, these services include:
Home Injection Services
Elderly Care
Drips at Home
Dressing at Home
ECG/Blood Pressure Check at home
Baby Care
Nebulization
Tube Feeding
Urine Foley
Physiotherapy
Medication
Seasonal Vaccination
Blood Sample Collection
Elderly Care Services
Elderly Care Services stands for looking after your parents at home. It is a trend in Europe that people go to Old Centers when they get old and spend time with the people of their age. In countries like Pakistan, this act is considered disobedient. People here like to look after their parents on their own. But in some cases, they Hire Home Elderly Caregivers.
What are the Rates of Home Care Services?
Rates may vary by service providing company to another. However, the main thing is that you should make sure before hiring any company that they are providing your required services. For this purpose, you can visit their website, their blog, their Facebook page or any other social media profile where they have provided. You may also want to consult your trusted senior placement advisors to make sure you're well-guided with every decision you take for your senior loved one.
You should also check their authenticity and the quality of their services. The simplest method is the same as visiting their Google Page or any other profile. There you will be able to check reviews of the people to measure the quality of their work. Now, you are in a position to calculate whether their services really pay back your money or it will be a waste of money.
DISCLAIMER: This is a sponsored post. Daily Human Care does not endorse and is not responsible or liable for any information, accuracy, quality, advertising, drugs, doctors, goods, or other items on this page because it is a sponsored press release. Before taking any steps, readers should conduct their own research. Daily Human Care (DHC) is not liable for any damage or loss caused or alleged to be caused by or in connection with the use of or reliance on any of the content, goods, or services mentioned in this article, whether directly or indirectly.