Music therapy for children dealing with anxiety
There are various types of music and each style has a significant impact on one's mood. After all, music can help them feel and process various emotions—from joy, calmness, sadness, and thoughtfulness to thrill and excitement.
There is also scientific evidence that supports that music can even improve various disorders, like stress, anxiety, and more. That's why it is now used as an alternative therapy to encourage people, including children, to actively create music and improve their mental health.
In this article, we discuss what music therapy is and how it helps children who are dealing with anxiety.
What is music therapy?
Music therapy is a session where a therapist and child psychologist uses the abilities of music to enhance one's overall well-being. This is an alternative therapy along with other types of therapies, like cognitive behavioural therapy (CBT) or counselling.
During music therapy, a therapist uses an individual's connections and responses to music. It helps a patient to bring positive changes in his/her mood while improving the overall mindset. This therapy even includes creating music with instruments or simply listening to music. It may even involve dancing to music or singing.
With the help of music therapy, kids dealing with anxiety can improve their communication skills, confidence, self-awareness, concentration, and attention skills. This brings in more awareness and a feeling of independence in them.
However, to see a positive change in an individual, live musical interaction is a must between a therapist and a patient.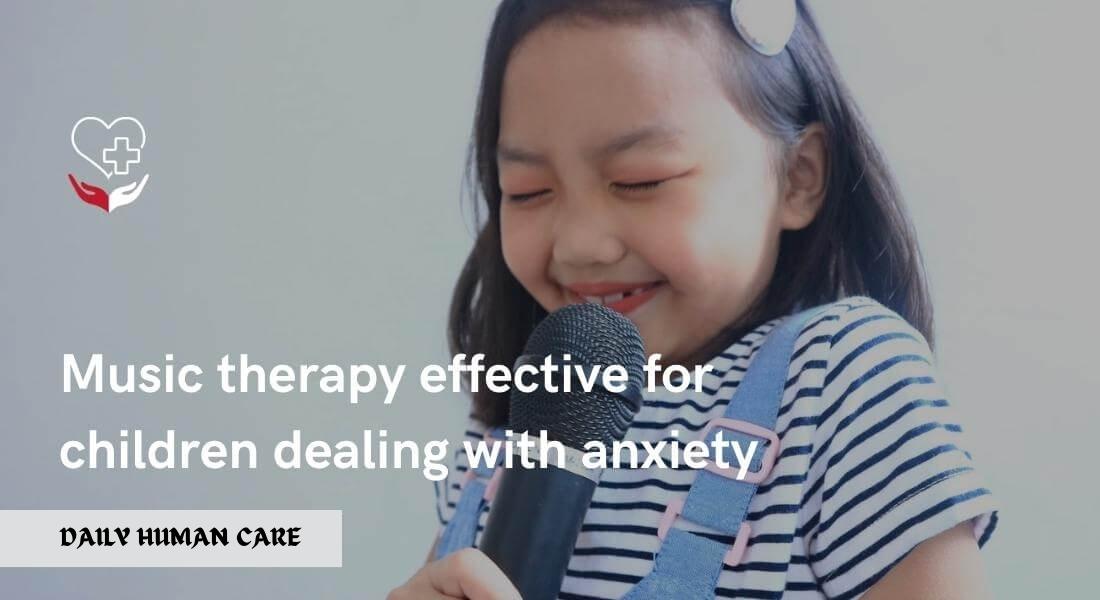 How does music therapy work with children?
The impact of music therapy depends on an individual. Every person gets the needed help as per their abilities and preferences. For some, playing a musical instrument during a session may work, while others may benefit from singing. If anyone struggles to make music, there can be work on songwriting or any other process of music creation.
Whatever the technique, this practice can undoubtedly affect a patient's breathing and heart rate. The most impact is during the involvement of a strong rhythm. Thanks to music therapy, neurotransmitters (also known as endorphins) are released in the brain. These endorphins further trigger a positive feeling in one's body while acting as natural painkillers. After that, they help in promoting relaxation while reducing muscle tension.
There is even evidence that music can release negative emotions, memories, or repressed feelings. One's healing process needs to bring a positive change in their behaviour, thoughts, and attitude.
Benefits of music therapy for kids
According to research, there are various positive changes in a child's mind with the help of music. Here are some benefits that music therapy has on a child's mind:
Connecting with the care team
Improving vital signs, sleep, and feeding in premature babies
Alleviating discomfort and pain
Helping kids express their emotions
Promoting relaxation and positive moods
Assisting in reducing the length of hospital stay
Reducing anxiety and stress before medical procedures
How music therapy can help kids deal with anxiety?
During a music therapy session, a therapist uses various instruments, like small percussion instruments, drums, and keyboards, to form looks and beats. That's how a child learns to get involved in music. Songwriting is another good option to bring a positive change in a child's mind. A therapist can ask a child to take an exciting song and change its lyrics to match his/her current situation. Or maybe try to compose an original song.
A combination of well-structured musical activities is useful, particularly for someone experiencing anxiety due to several social situations. Using improvisation in music is a safe way to create something unique while making a child feel comfortable with the music therapy concept.
There are some proven benefits as well. According to the Music in Mind clinical trial based in Northern Ireland, music therapy helped children and young people dealing with mental health conditions and behavioural problems. It leads to improvements in self-esteem, communication, and social functioning.
Some other studies also showed positive results with the combined use of music therapy and cognitive behavioural therapy (CBT). Furthermore, music therapy helps young people to develop emotional regulation skills. It is a mechanism that enables individuals to function in everyday life, managing various circumstances while controlling our emotional responses to feelings and events.
The development of emotional regulation skills is vital to decreasing the risks of mental health challenges later on. So, developing them in early childhood with musical and interactive play is crucial.
For this, a music therapist can play games with a child and take turns being in charge of a music piece. An opportunity to signal "go" and "stop" and choose whether the music is soft or loud gives a child to take charge. It further helps in developing self-esteem and confidence.
That's how music therapy can do wonders to bring up a child's overall esteem while making them strong enough to face various situations in life.
DISCLAIMER: This is a sponsored post. Daily Human Care does not endorse and is not responsible or liable for any information, accuracy, quality, advertising, drugs, doctors, goods, or other items on this page because it is a sponsored press release. Before taking any steps, readers should conduct their own research. Daily Human Care (DHC) is not liable for any damage or loss caused or alleged to be caused by or in connection with the use of or reliance on any of the content, goods, or services mentioned in this article, whether directly or indirectly.