What are the Types of Sports-Related Dental Injuries and the Ways to Prevent Them?
Around 13 and 39 % of dental patients are individuals with a sports injury. Sport is a profession where injuries are inevitable. They are often considered a rite of passage. Certain injuries heal in a short span of time, however, some dental injuries when left untreated can lead to severe issues in the future, causing discomfort in everyday activities. The treatment then might also be more on the expensive side.
Sports professionals need to be at the peak of their health; even mild discomfort can be distracting enough and influence their performance. Therefore, it's crucial that one gets acquainted with the dental risks associated with sports and also utilizes preventive measures like using a mouth guard and other protective equipment.
The protective equipment has been made obligatory for 5 sports which include- wrestling, ice hockey, field hockey, football, and lacrosse. Although; several other sports like football, basketball etc. make use of protective gear as well.
Dental emergencies in sports come unannounced. Recognizing you have a dental emergency is important; so, you can determine if you need to get treatment. If you have visible tooth decay, intense and recurring tooth pain, broken tooth or any of the other injuries mentioned below; it's time you find a reliable service that will help you out in the most impeccable manner, you can also surf about dental plans that can help you tackle such challenging situations.
Sports injuries can vary from minimal to severe and can be categorized into a few types. Here we shall talk about a few common dental injuries and get acquainted with a few methods that can help you prevent them.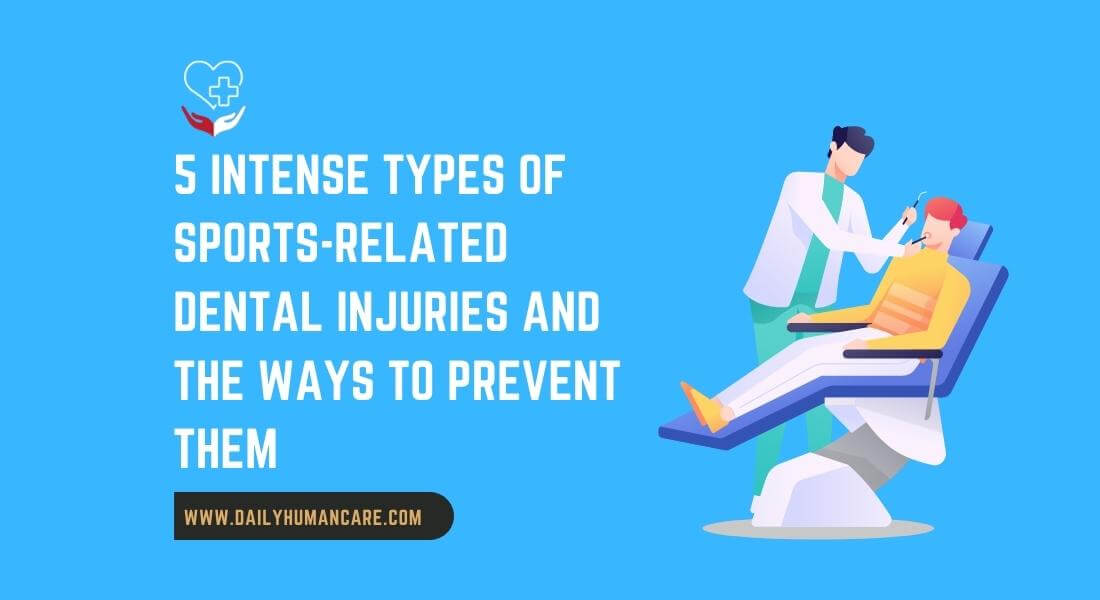 1. Cracked Tooth
A cracked tooth is the most commonly experienced sports injury. A chipped tooth is a likely occurrence when you hit the court, field, or rink. It could be due to a fall on the ground or being smashed; as in the case of wrestling. Sometimes equipment like a ball or bat might hit the face accidentally, causing a cracked tooth. A cracked tooth is often accompanied by craze lines. Since the cracked tooth is a common dental injury, dentists have a predetermined solution for it- Crowns. A dentist will recommend you a dental crown, which is a protective cover made of either plastic or metal.
2. Dislodged Tooth
If you are someone who regularly participates in high-contact sports; you probably already had a dislodged tooth or know of it. Dislodged tooth occurs when a tooth partially shifts in its socket but isn't completely knocked out of it. Dislodged tooth if not treated in time can lead to infections and cause severe pain. Having a dislodged tooth is not really great for your oral health so you need to get it fixed before it damages the surrounding tissues. It can be put back in place by a dental crown or implant surgery.
3. Knocked-Out Tooth
A knocked-out tooth needs to be dealt with instantaneously! A knocked tooth is the most dreadful dental injury; however; fortunately, it is also a rare one. Watching your tooth come out can induce panic, but you need to stay on top of your emotions and provide yourself with some instant first aid by holding the tooth by its crown and rinsing it with saliva or milk. If you can't locate your tooth, avoid contact with bare hands and visit a dentist immediately. The hygienist will either reinsert the tooth if it's possible or mostly recommend you a root canal or a dental crown.
4. Tooth Intrusion
Tooth intrusion goes beyond the normal expectations of a sports dental injury. Knocked tooth and cracked tooth are the common images associated with sports dental injury, however, a tooth being driven into the alveolar process of the mouth due to an axially directed impact is something we just can't imagine. It's a frightening form of displacement injury. This usually is self-healing or if severe can be worked upon by using a filling of calcium hydroxide paste followed by root canal therapy.
5. Root Fracture
Dental fractures are not something we commonly talk about but they are a real thing. Roots; which anchor your teeth to the jawbone when fractured or snapped; can make it real difficult to try and save the tooth. A root fracture is one of the most complex dental injuries teeth can sustain. The viable treatment for it includes gathering x-ray data and getting a dental implant or bridge.
Preventive Measure
We all know prevention is better than cure. A few ways to prevent sports injuries are equipping yourself with all the protective gear. It could be a helmet, mouthguard and so on. Make sure your gears are customized and fit you perfectly so there is a lower scope of dental injuries. An ill-fitted gear can loosen and fall off.
No matter how much care you take; there is always a probability of falling prey to sports injury. Therefore, keep an approachable dental service in mind. The treatments might vary with severity; but with the right dental professional, you will receive the right remedy and be fine in no time!
DISCLAIMER: This is a sponsored post. Daily Human Care does not endorse and is not responsible or liable for any information, accuracy, quality, advertising, drugs, doctors, goods, or other items on this page because it is a sponsored press release. Before taking any steps, readers should conduct their own research. Daily Human Care (DHC) is not liable for any damage or loss caused or alleged to be caused by or in connection with the use of or reliance on any of the content, goods, or services mentioned in this article, whether directly or indirectly.