A rehabilitation centre for depression is a safe and confidential facility that offers medical and professional treatment services to individuals who suffer from depression and other mental health disorders such as Anxiety, OCD, Bipolar Disorder, Personality Disorder, Schizophrenia, Dementia, etc.
A rehabilitation program is built around enabling patients through their mental health issues by offering different types of therapies and medical treatments.
Do you know What are the Benefits of Rehabilitation for Women? Click to read.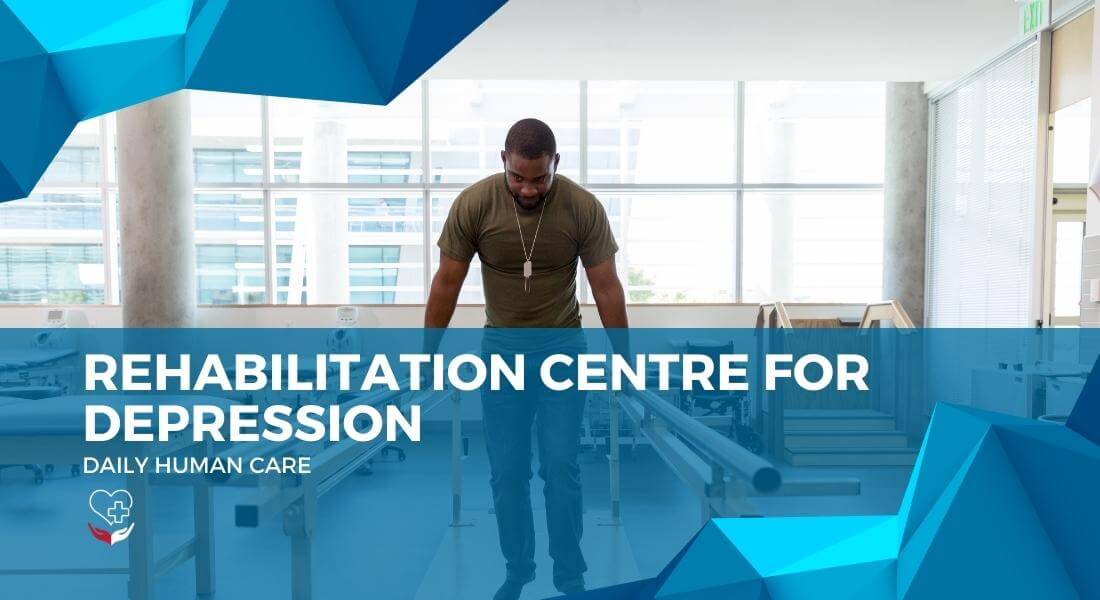 Rehabilitation of Patients suffering from Depression
Many people in India suffer from mental health issues. Because of the lack of awareness in people today, more and more people are unable to share their issues with others. Having someone to share one's issues and thoughts can be extremely helpful when it comes to mental health disorders such as Anxiety and Depression.
Without having the proper channel for expressing one's thoughts, depression tends to grow deeper and stronger. Experts such as Therapists and Psychologists can help people with depression and other mental health issues.
What is Depression?
Depression, or Clinical Depression, as it is referred to in medical terms, is the condition of a patient where the patient is dealing with thoughts that are self-harming, demotivating and very emotional. A person with depression is similar to someone stuck in quicksand – they cannot help themselves and feel like they are sinking in more and more.
Depression can be very subtle, and many people do not know that they are depressed until and unless someone points it out to them. This is why many people go undiagnosed and therefore are unable to come out of depression or battle against it.
Those who have severe depression may try to harm themselves or attempt to commit suicide – which is not only dangerous to themselves but also the people around them, not to mention that it is against the law.
This is one of the primary reasons why depression must be identified at an early stage and must be treated as soon as possible. Severe depression can cause a person to self-neglect and to become extremely vulnerable to addiction and/or another indulgence that can be harmful to themself.
Depression can have a plethora of reasons. Some people are depressed genetically – if multiple family members have had depression, this may also pass on to children subconsciously. Other factors include:
Traumatic events
Professional lack of support
Bullying or ragging at school
Torture of any kind (physical or mental)
Excessive stress and peer pressure
Genetics
Symptoms of Depression
There are many symptoms of depression once they are looked at closely. They can often masquerade as symptoms of bad mood and frustration. Below are some of the more prominent symptoms of depression in patients:
Always in a gloomy mood
Easily agitated and frustrated
Cries easily
Poor performance in school/work
Not interested in going out
Poor social relations
Poor familial relationship
Lack of normal emotions
Not interested in most things they were once passionate about
Also, read the 5 signs of anxiety and depression you should not ignore.
Rehabilitation centre for depression
These rehab centres treat these symptoms with trained and professional therapists who can offer the right treatment by engaging the patients in one-on-one conversations and helping them open up about their issues.
Rehabilitation centre for depression are present in most major cities and are one of the best places to treat depression and other related mental health disorders such as anxiety, personality disorder, bipolar disorder, etc.
DISCLAIMER: This is a sponsored post. Daily Human Care does not endorse and is not responsible or liable for any information, accuracy, quality, advertising, drugs, doctors, goods, or other items on this page because it is a sponsored press release. Before taking any steps, readers should conduct their own research. Daily Human Care (DHC) is not liable for any damage or loss caused or alleged to be caused by or in connection with the use of or reliance on any of the content, goods, or services mentioned in this article, whether directly or indirectly.