This article by Daily Human Care is all about the Most Common Orthopaedic Surgeries.
Orthopedics is the branch of science that deals with the bones and the musculoskeletal parts of the body. The Orthopedician is a doctor who specializes in bone-related issues and can suggest medical treatments and surgeries correct bone-related disorders.
For those who suffer from bone diseases such as injuries, accidents, ligament problems, inflammation, weakening of the bone, and nervous disorders, orthopedic surgeries may be the key to retrieving essential bone and muscle function in the body.
Orthopedic Hospital in Bangalore is known to be extremely proficient in bone-related surgeries and to treat people who are either in sports or have musculoskeletal disorders due to health issues or aging.
What causes Orthopaedic problems?
There are many causes for patients to come across the bone and muscle-related problems. Some of the most common causes are:
Accidents and bone-related injuries are the most common disorder of musculoskeletal disorders. Most people hurt their hands, legs, and joints in some other accidents, and often end up needing surgeries.
A very common phenomenon across soccer, tennis, badminton, and other games is sports injuries. Most sports can place tremendous pressure on the bones and joints and may end up requiring surgeries.
Aging can cause the bones to weaken and harden due to the lack of synovial fluids, especially in the joints. This can cause pain and inflammation often requiring surgeries
Diseases such as Rhinitis, Osteoporosis, Cervical Spondolytis, and Arthritis can affect the bones making the bones weak and porous. This may require surgeries to rectify the bone or joint system
An improper recovery from a joint replacement surgery or bone fusion surgery may lead to another surgery that needs the specialist to look into the correction of the condition.
What are the most common Orthopaedic Surgeries in India
Many hospitals in India have some of the best Orthopaedic surgeries and most notable amongst them all are the Orthopedic Hospital in Bangalore which is known for its special Orthopaedic Surgeons. Some of the common surgeries in these hospitals are mentioned below: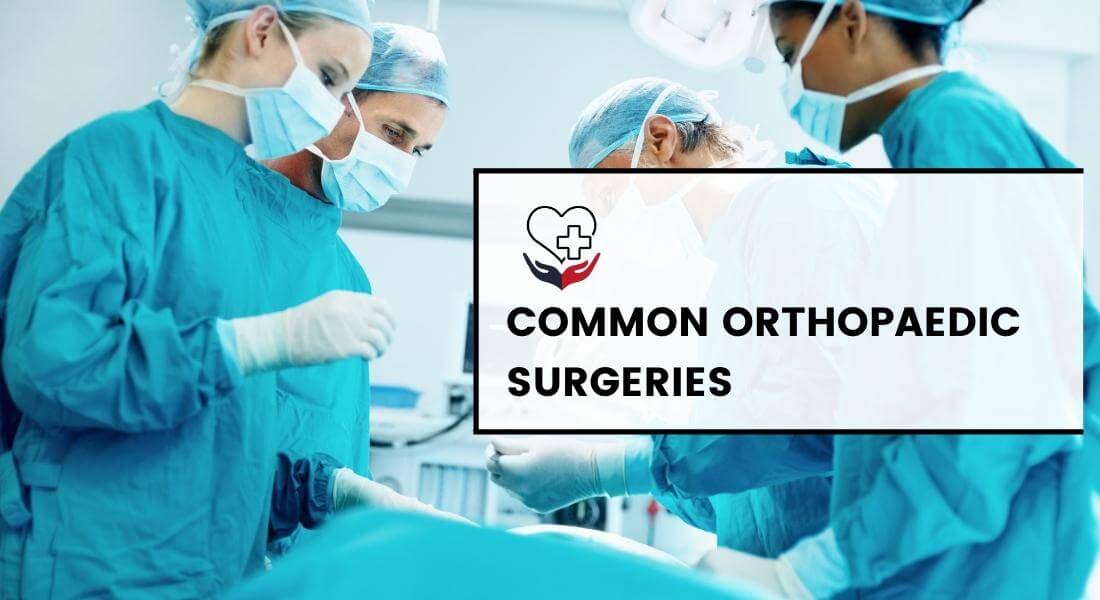 Knee Replacement Surgery
Knee Replacement surgery is done for those who have a partial or full loss of functionality in their knees. This requires the surgeon to either remove partial parts or the complete knee in order to bring back the functionality of the knee. This is common for people who have severe stress in their knees such as football players, sports personnel, and obese people.
Hip Replacement Surgery
Hip replacement surgeries involve the replacement of partial bones and sockets near the hip for people who suffer from injuries or from diseases that affect the bone such as Spondylitis and Osteoporosis. It is also a result of accidental injuries or sports.
Shoulder Replacement Surgery
Shoulders have a ball and socket that often can get affected due to excessive stress and repeated movements such as people who play tennis, badminton, swimming and other sports. Accidental injuries may also force patients to get shoulder replacement surgery to bring back functionality.
Spinal Surgeries
Spinal surgeries are often a result of herniated disks, spinal injuries from accidents, aging, or bone-related diseases that cause the bone to become inflamed, weak and inflexible. Spinal surgeries can help in bringing back the lost functionality as well as repairing herniated and inflamed disks or compression of nerves due to pressure from the inflamed disks and surrounding muscles.
Hope you enjoyed reading this article.
Do you know how to treat joint pain naturally? Click on the link to read that.
DISCLAIMER: This is a sponsored post. Daily Human Care does not endorse and is not responsible or liable for any information, accuracy, quality, advertising, drugs, doctors, goods, or other items on this page because it is a sponsored press release. Before taking any steps, readers should conduct their own research. Daily Human Care (DHC) is not liable for any damage or loss caused or alleged to be caused by or in connection with the use of or reliance on any of the content, goods, or services mentioned in this article, whether directly or indirectly.