How Swimming Can Work Your Chest Muscles?
When it comes to chest exercise most people start with bench press and end with some easy dumbbell exercises and they think it is enough. Although these exercises are good and in some cases, you will get results, these hectic, boring, and lengthy exercises mean you need to take out at least 45 minutes from your daily routine so you can hit the gym.
In some cases, this process doesn't just require gym membership but you also need to pay for a personal trainer who can make customized workout routines for you that you can follow. All these steps are important for better results and most of the time it can cost a lot of money and a lot of time. However, things are changing now, more people are moving towards functional exercises as compared to hectic weight-based exercises.
Swimming is so far one of the best functional exercises. As the summer is approaching, most people will head towards the swimming pool to blow off the steam and enjoy a cooling-off session. However, swimming has so many physical benefits, especially since it is great cardio that can help you strengthen your heart, open your muscles and improve your body strength as well. Since swimming is a full-body exercise it is used for weight loss as well as muscle building.
With the help of this article, we will look at swimming from a functional exercise point of view. We will see how swimming can help in improving the overall body strength with a special focus on the strength of chest muscles along with back and shoulder muscles.
read some Breathing exercises for one who swims
How Swimming Improves The Shape Of Your Chest Muscles And Why It Is Better?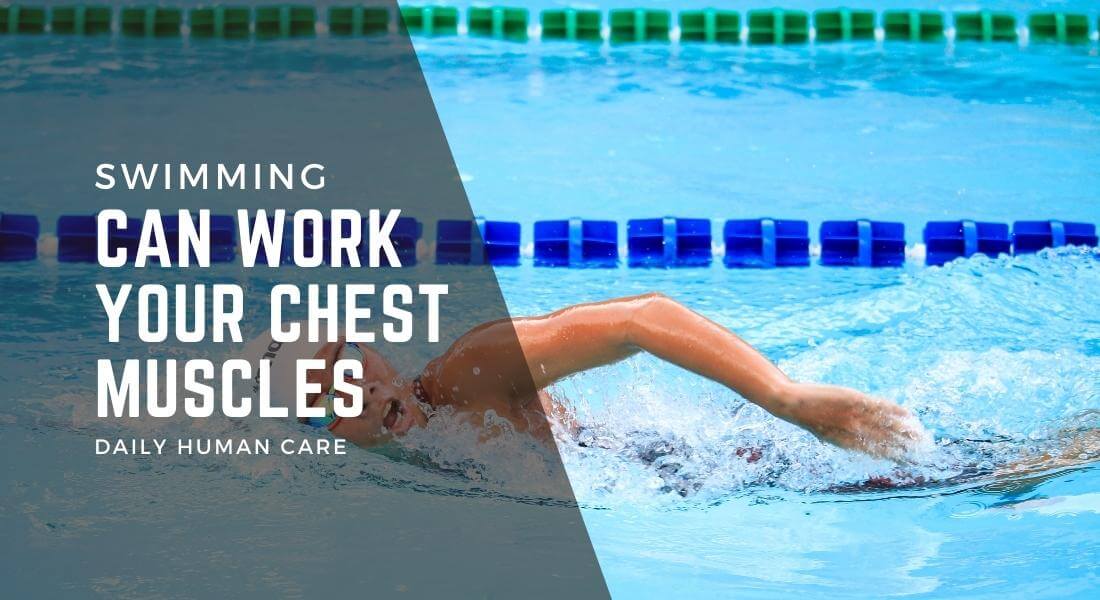 We all know that when it comes to choosing exercise we have just two options. We can either choose a full-body combination exercise that will help us to use multiple muscles at the same time, burning more calories and shaping more muscles. On the contrary, we have a simple isolation exercise that will help you target one muscle at a time so you can choose the muscle you want to target and then exert your energy only on targeting that muscle.
This means if you choose isolation exercise you will spend more time on just one muscle group and this will bring your yield down even if you are spending more time. In a fast-paced world where people have very little time, combination and functional exercises are becoming more common and this is why swimming is so far taking the lead, swimming is a full-body complete exercise that strengthens and shapes your whole body.
As you start swimming you are mainly using your arms and legs. This will help you engage your shoulders along with back muscles, upper arms, and lower arms as well. Depending on the style of swimming you choose and your technique your main focus will be on shoulder movement which is directly connected to the pecs. As you start by lifting your arms you will be using your pecs as the rotating point and you will flex your shoulder to the max. This is when your arms will hit the water. The idea is to use your hands to push back water to give your body enough power to push it on the front.
With the help of this technique, you will be working on your upper body muscles at the same time. And since this exercise is functional you will feel more engaged with very little effort and you will enjoy the process much more than you feel tired or bored. As you swim your shoulders and chest muscles will act in two ways, you will use force for pushing weight and forcing water. However, there is a limitation that this might affect the resistance as well and you will see the impact on overall body resistance. Swimming is a moderate exercise that can help you tone the pecs and it is very important to add significant mass as well.
Bottom Line
To sum it all up, swimming is by far the best exercise that requires minimum effort yet you will be burning a lot of calories. Starting from the minimal resistance, using full-body muscles you will start swimming and it will still bring you a very large yield.
This means that the exercise is not boring and with every muscle you use, you will have a very good calorie burnout rate that otherwise might not be possible when you choose an isolation exercise. Swimming is a combination exercise that will not only help you shape your chest, especially pecs muscles but also will help you strengthen your back muscles along with shoulders and arms. Overall if you want to lose weight or just want to increase endurance you need to start swimming right away.
Fond of exercises but can't go gym. This article is best for you then… read traps workout at home.
DISCLAIMER: This is a sponsored post. Daily Human Care does not endorse and is not responsible or liable for any information, accuracy, quality, advertising, drugs, doctors, goods, or other items on this page because it is a sponsored press release. Before taking any steps, readers should conduct their own research. Daily Human Care (DHC) is not liable for any damage or loss caused or alleged to be caused by or in connection with the use of or reliance on any of the content, goods, or services mentioned in this article, whether directly or indirectly.