Benefits of Therapy
Not so long ago, mental health used to be a taboo subject due to the various stigmas attached to it. However, lately, things have taken a turn for the good.
Not only has the discussion surrounding mental health opened up but measures to alleviate mental health problems are also seeing wider acceptance.
In some parts of the world, people no longer buy into the stigmas attached to mental health. Courtesy of mental health awareness, people actively seek to treat certain aspects of it.
However, there are still other places in the world where mental health is still not as widely accepted as it is elsewhere.
In the latter case, while people may take certain measures in isolation, professional help is usually frowned upon.
There are, of course, exceptions to this, but they are only limited to serious cases. Prevention is better than cure and if timely intervention is made, things can be controlled before they get out of hand.
This applies to various mental health problems such as obsessive-compulsive disorder (OCD) and anxiety. If the patients continue to suffer silently, they are not likely to make any progress. While they may gain some degree of control over their condition, if the issue is not properly addressed, it may worsen.
Similarly, there are other serious issues that might need professional intervention. There are many good places that offer therapy, especially for substance abuse, and if you are located in West Palm Beach area, you might want to check out the Palm Beach Institute, which has helped tens of thousands of other people recover from hard-to-break behavior patterns.
However, if you are still on the fence about going into therapy, this article will list five benefits of therapy that might make you want to give it a try: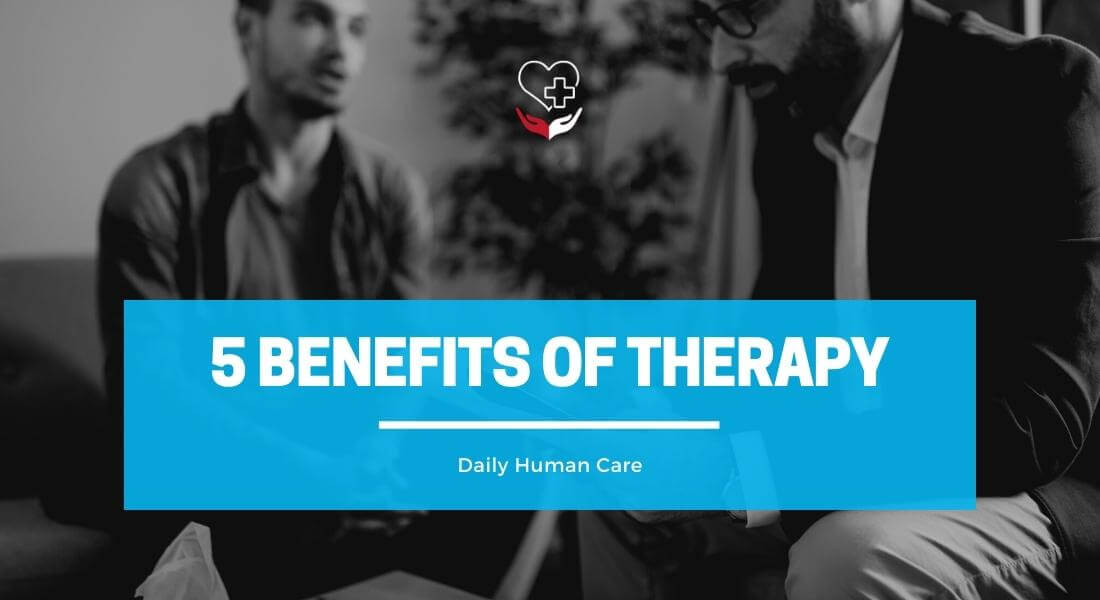 1.      Long-term coping skills:
If you suffer from a mental disorder such as OCD, you probably know that it does not go away on its own or there is no cure for it either.
While you can learn certain coping skills on your own, there are always chances that you might not be able to exert control over your condition. In such circumstances, therapy can help you learn long-term coping skills.
These include avoiding behavior that worsens your condition. Therapy can help you manage intrusive thoughts and help you learn to see them as harmless and better left ignored.
It can also help you break the endless cycle of seeking reassurance from yourself and others.
2.      Positive lifestyle changes:
If therapy works out for you, and you start addressing the root cause of your problems, it can bring about positive changes in your life. Not only would you be able to live free but you will be able to process emotions better.
Those with anxiety can greatly benefit from a more positive outlook. You will break free of the shackles that restrain you. You will start having positive interactions with people and learn to enjoy their company.
Positive behavior leads to happiness, and you will start experiencing changes within yourself. Your mood will start to get better and you will transform into a lively person.
Moreover, you will be prepared to take risks by objectively calculating the odds rather than letting your fears hold you back.
3.      Less stress:
Stress plays a huge role in chipping away at our mental health. We live in a world where the consequences of stress tend to go unnoticed, as we continue the never-ending hustle of our daily life.
But if you identify the root cause of stress, you can bring it under control. If it is the fear of a negative outcome, you can work with a therapist to bring about a change in your thoughts.
You can work towards processing your feelings differently in order to minimize stress and maximize efficiency. Moreover, you can also learn new skills to control stress. You have to minimize your stress levels if you wish to stay healthy in the long run.
4.      Better sleep:
Sleep is an essential part of life, yet our lifestyle choices often steer us towards sleep deprivation, and it becomes a chronic issue. Lack of sleep can impair your body functions, and it can lead to other mental health problems as well.
Not only does it weaken the immune system and lead toward obesity, but it also leads to mental health problems, such as depression and anxiety, and even memory loss.
A good therapist can help you realize the importance of getting good sleep. If you are having trouble falling asleep regularly, therapy can help you resolve underlying problems that you might have.
5.      Being in control:
Therapy can help you take over control of your life. If you are facing a serious issue, yet you refrain from getting professional intervention, you face the risk of losing control.
Inaction and sense of losing control can lead to strained and damaged relationships. It can impair the quality of your life, and it can also cause certain health problems.
However, if therapy helps you bring your life under control, you can avoid having these problems. It can also help you make better decisions.
You would be able to process your thoughts in a better way, and you would be able to react well to various situations. Once you gain control over your life, you can start living positively as well.
Conclusion:
There are many reasons besides the ones mentioned above to pursue therapy. You should look into going into therapy if are suffering from stress, anxiety, or depression. Focus on communication skills, gaining deeper insights, developing fresh perspectives, and getting over traumas that continue to haunt you. Online therapy is a great way to dip your toe into the world of therapy to see if it's for you. Online therapy can be particularly useful if you run a tight schedule and find it difficult to visit a therapist in-person. You can also use therapy to gain insights into who you are as a person, what you believe in, and what purpose should you have in life.
DISCLAIMER: This is a sponsored post. Daily Human Care does not endorse and is not responsible or liable for any information, accuracy, quality, advertising, drugs, doctors, goods, or other items on this page because it is a sponsored press release. Before taking any steps, readers should conduct their own research. Daily Human Care (DHC) is not liable for any damage or loss caused or alleged to be caused by or in connection with the use of or reliance on any of the content, goods, or services mentioned in this article, whether directly or indirectly.